Note! Don't have the Digiexam client installed on your computer/iPad yet? Click here for installation guides.
---
Logging in through the web (iPad, Mac and Windows)
Logging in through the client/app (Chromebook)
---
Log in - iPad, Mac and Windows
Students can start exams in two ways:
Log in via the web and start the Digiexam client/app from the web without filling in any details in the client/app (figure 1).

Launch the Digiexam client/app on your device and enter your email and password (Figure 2).

Figure 1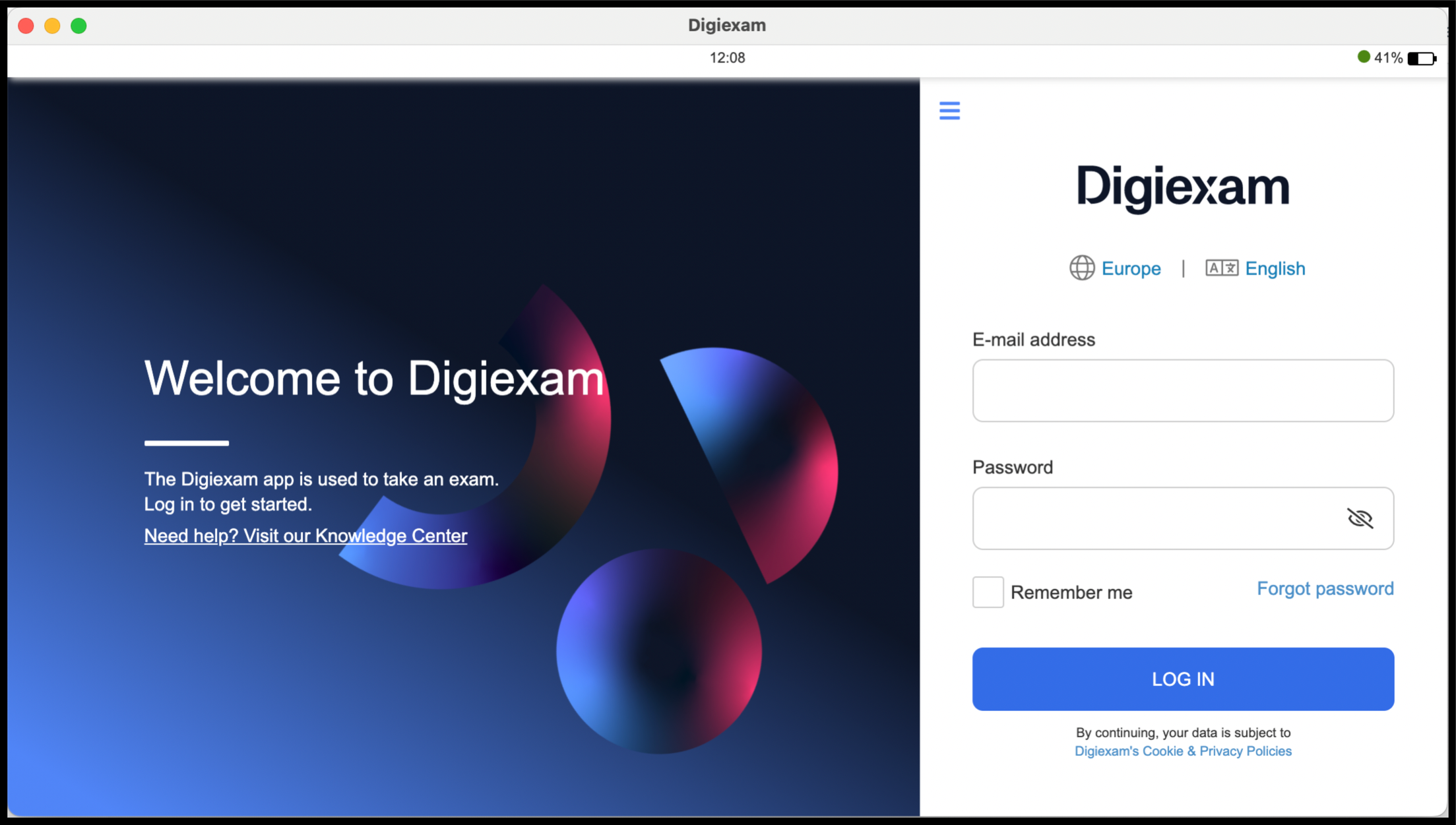 Figure 2
Log in - Chromebook
Chromebook users continue to enter their details, ie full name, email and student code, in order to access the client/app.
Open the Digiexam client/app, fill in your details and press Ok (figure 3).
Region: Choose the region that corresponds with where your school is located.
Language: Choose the client language.
Student code: This is decided by your school. Ask your teacher/exam supervisor about your student code if you aren't sure what it is.
First name: Your first/given name.
Last name: Your last name/surname.
E-mail address: This could be either your private or school e-mail address. Ask your teacher/exam supervisor which one to use if you aren't sure which one to use.
Stay logged in: Check this box if you want to stay logged in.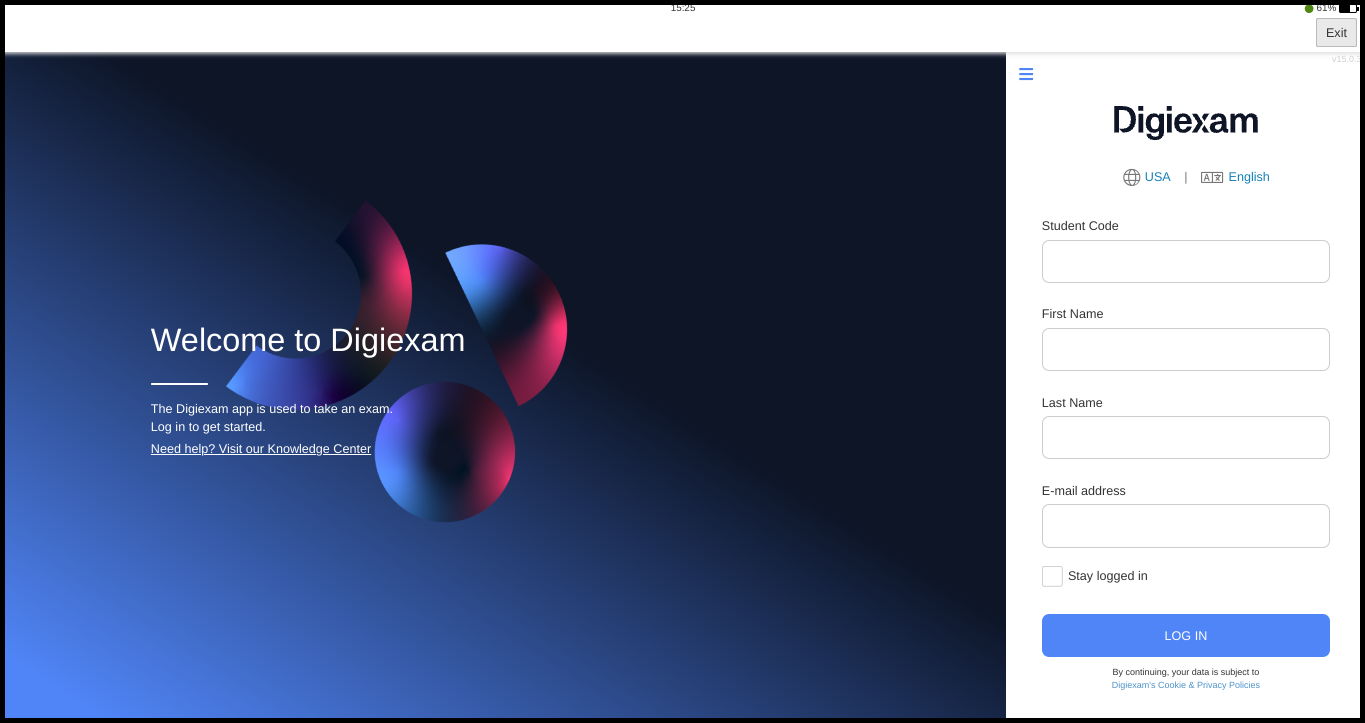 Figure 3


---
Find exam
Once inside the Digiexam client/app, exams can be found either by Exam ID or in the Active exams section (group exams), depending on how the exam has been started by your teacher (figure 4).

Figure 4
Group exams

A group exam is an exam that has been planned for a specific group of students. As a student, you only need to log in, and Digiexam will find the planned exams you are eligible to take. If no exam is visible when you start the Digiexam client, and you know there should be a planned exam, you will get a message under the Active exams section.
To solve this, try the following:
Check your internet connection

Check that you have filled in the correct credentials

Try clicking on the arrows next to Active exams to update the exam list.
Exams with Exam ID

Your teacher/exam supervisor will provide you with the Exam ID. Fill in the Exam ID under the Exam ID section and click on the Find exam button to find the exam (figure 5).

Figure 5


---
Start exam
Click on the exam you wish to start under the Active exams section (figure 6).
Start the exam by clicking on the Start exam button under the Exam details section (figure 6).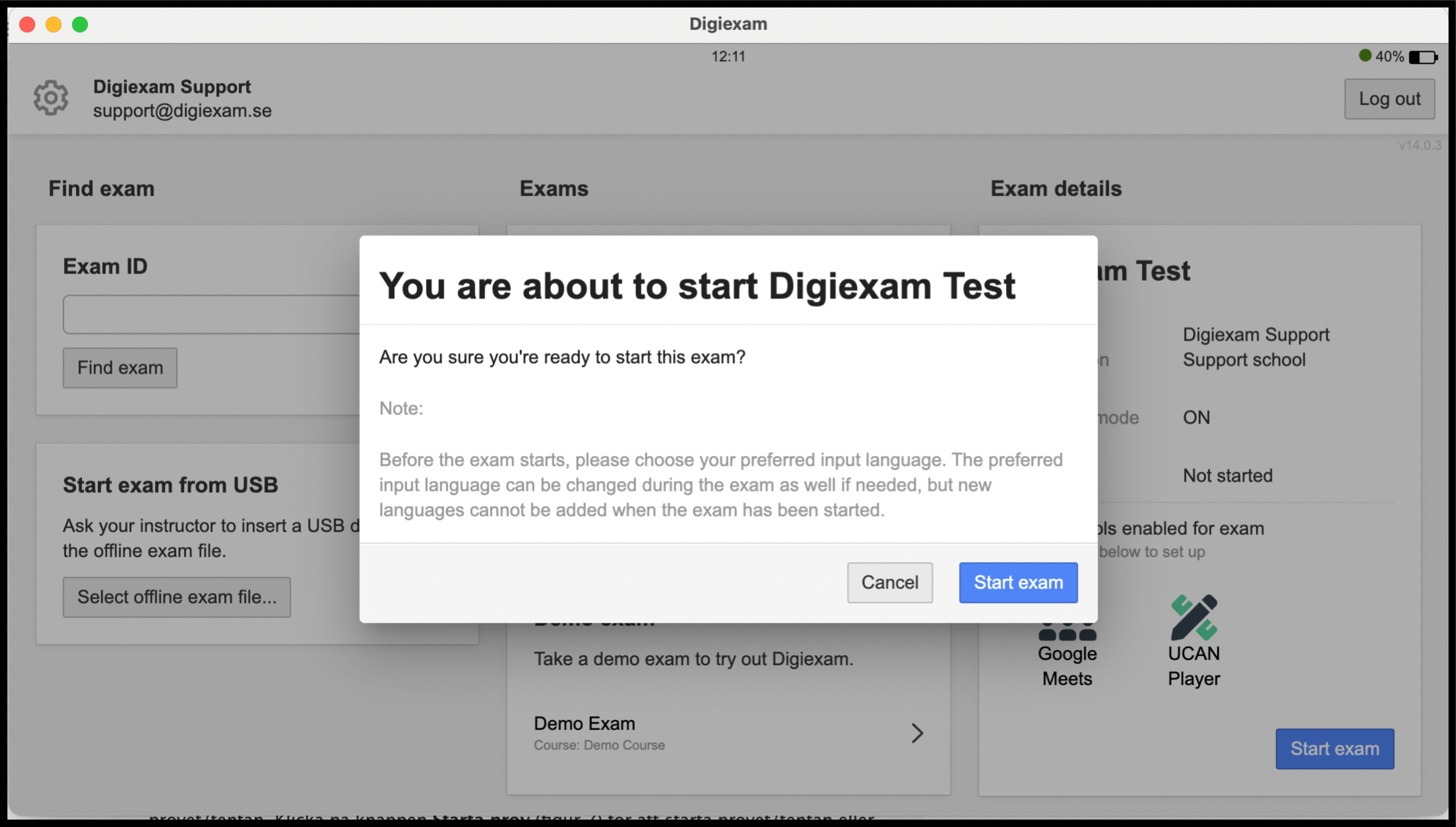 Figure 6
When you click on Start exam you will be asked in a pop-up box if you really want to start the exam. To continue, click on the button Start exam. If you wish to cancel the start of the exam, click the Cancel button (figure 7) to go back to selecting exams.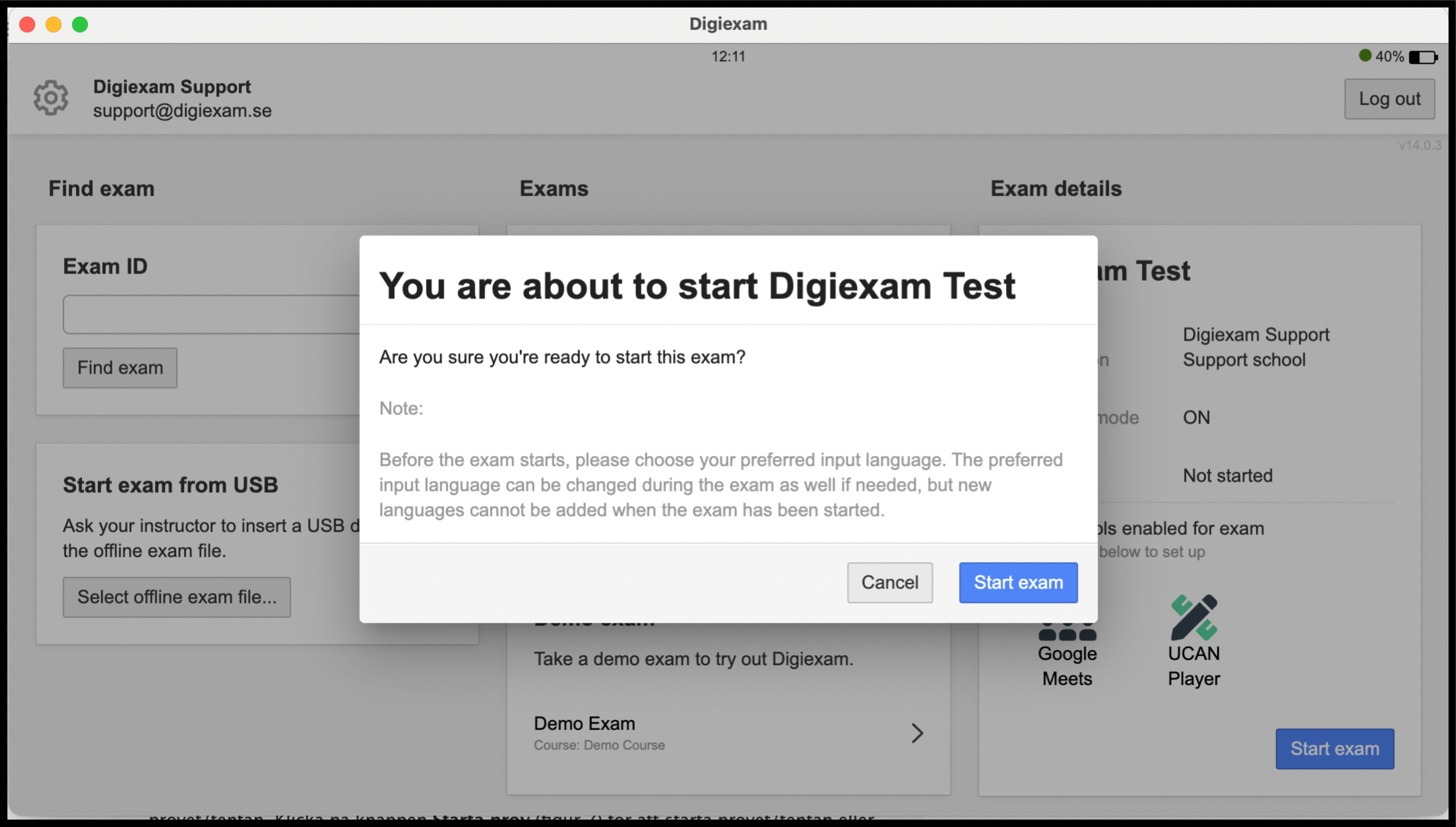 Figure 7

When the exam is started, you will enter the exam view where you will find the exam questions. Here is a description of what you will find in the exam view (figure 8):
Accessibility settings, keyboard input languages (only input languages that are installed on the computer can be selected) and audio settings

Text to speech

Student data

Questions answered

Hand in exam button (used to hand in the exam and exit the Digiexam client)

Question menu selector

Exam information and Digiexam client information. You could get information that this is a locked question sequence. Find more information about that here.

Figure 8


Example of how a text question can look (figure 9).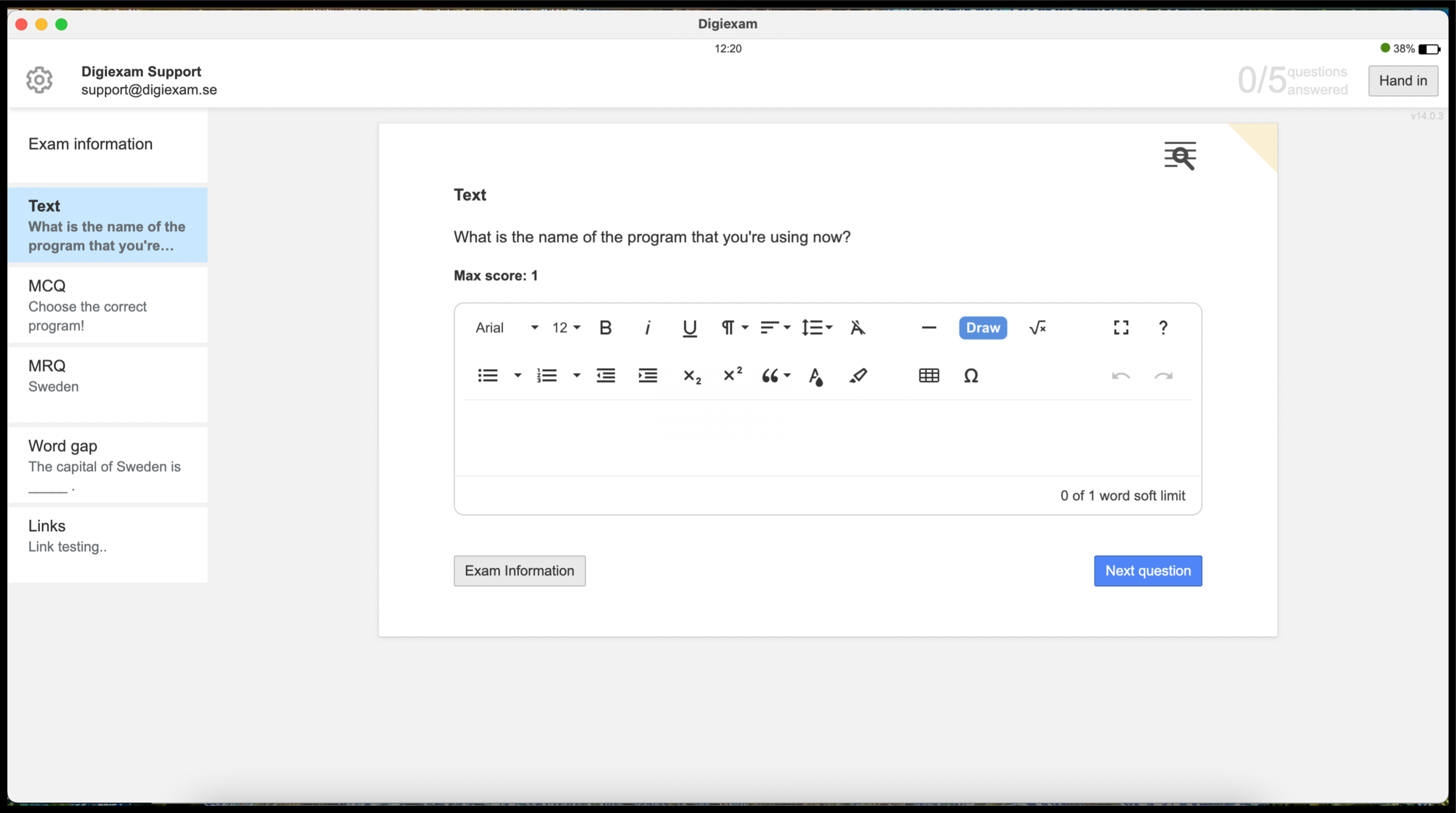 Figure 9

Example of how a single choice question can look (figure 10)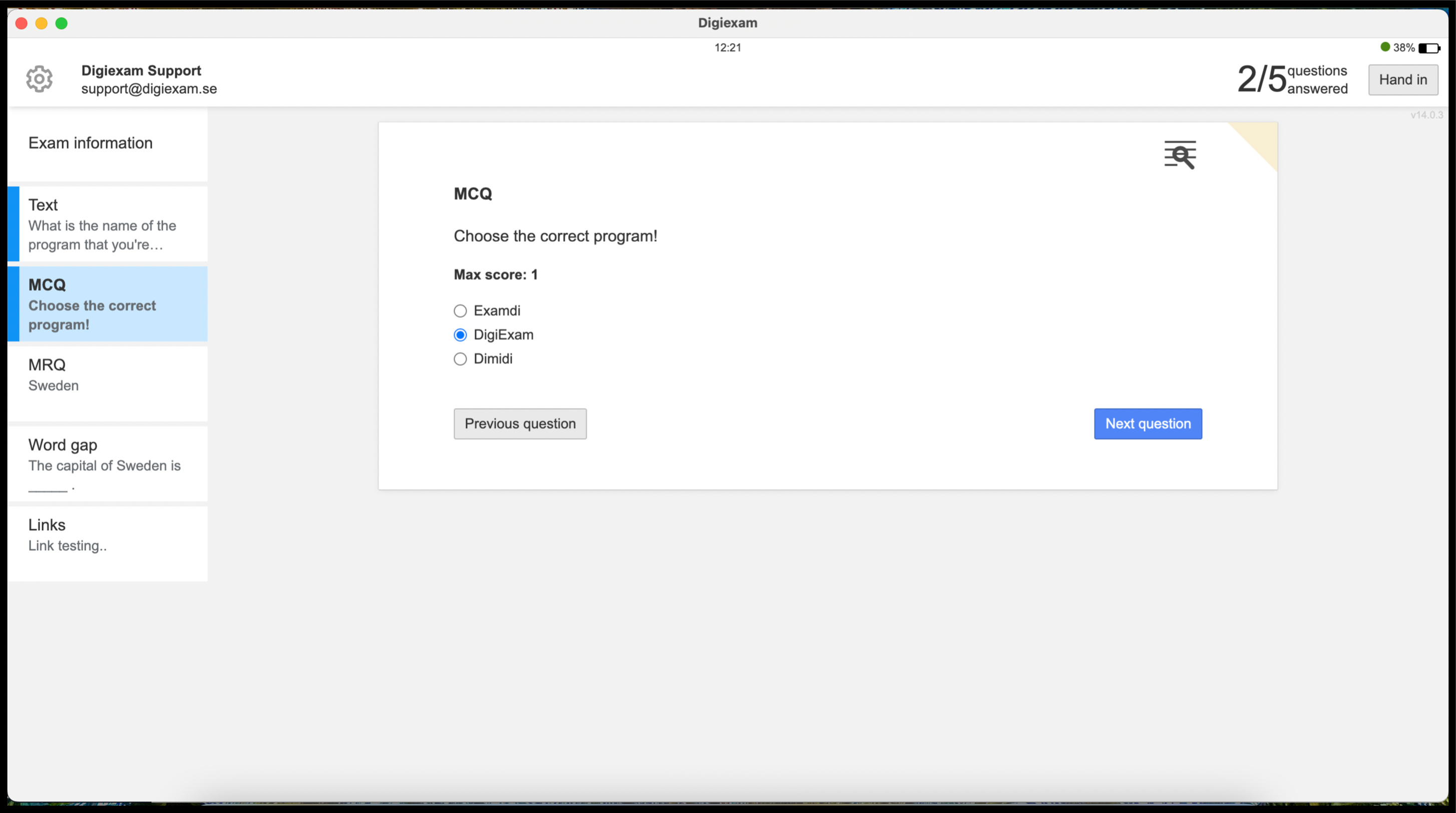 Figure 10

Example of how a multiple choice question can look (figure 11)

Figure 11

Example of how a WordGap Question can look like (figure 12)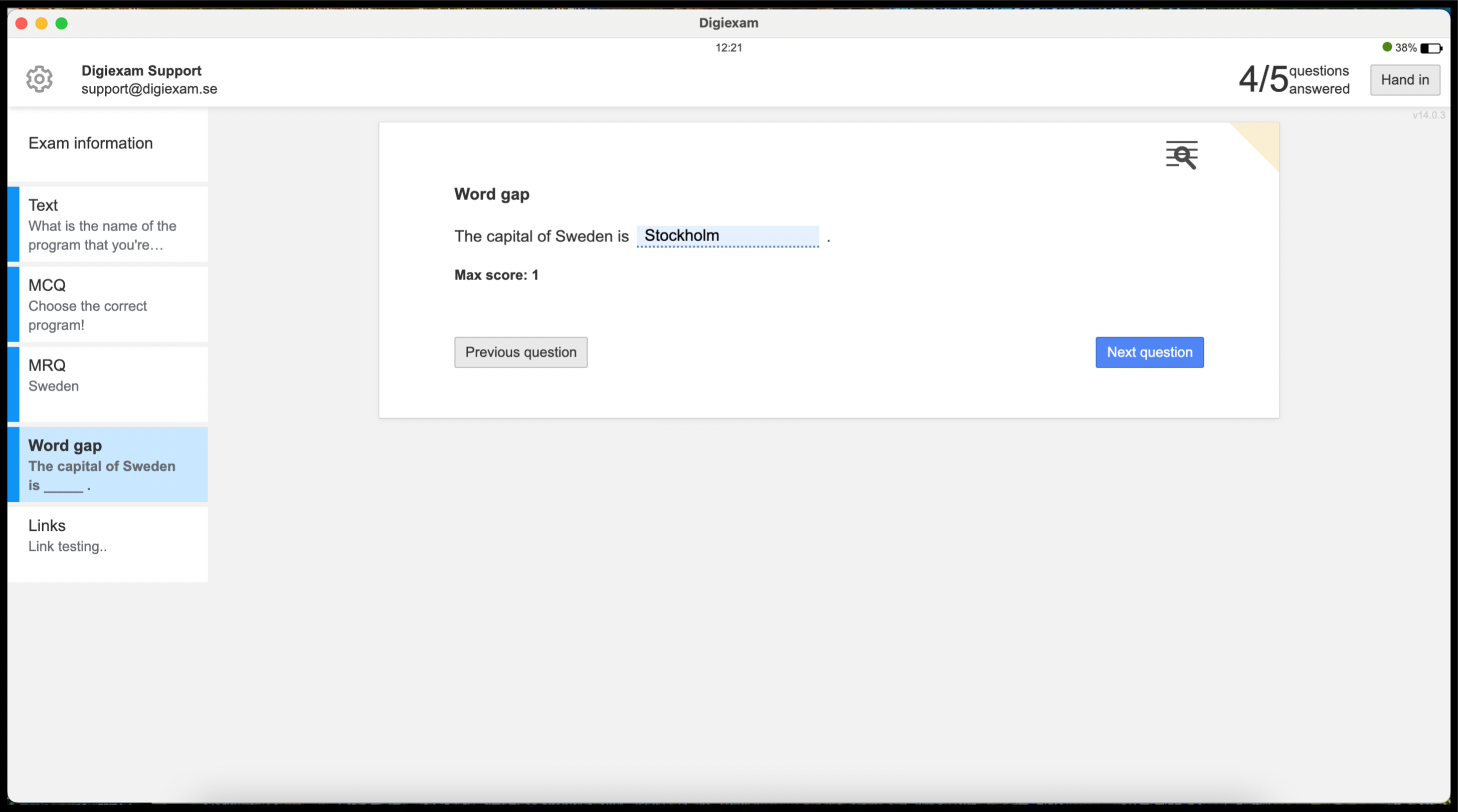 Figure 12

Example of how marking questions works when you click on the yellow marking to the right of the question, the question is also marked in the list on the left, so you can see it even when you are not on the specific question. (figure 13)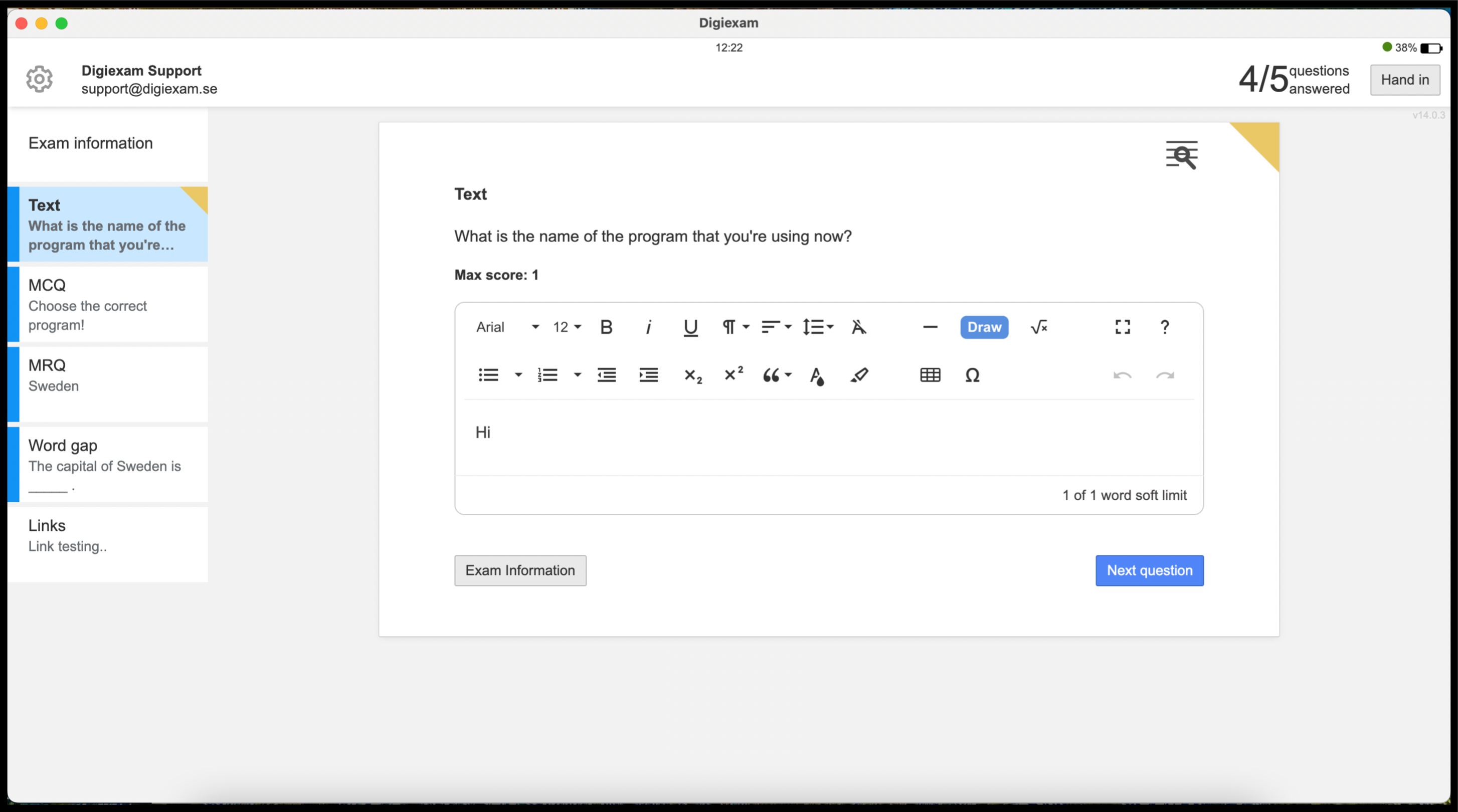 Figure 13
---
Hand in exam



When you are ready to hand in your exam, press the Hand in exam and exit button in the top-right corner.
When you press the Hand in exam and exit button you will be asked if you want to finish the examination twice (figure 13). This is a safety precaution made to prevent an accidental hand-in of an exam.
Click on the button Hand in exam button to proceed with handing in the exam.


Figure 14
The hand-in is confirmed by a final pop-up box that says Your exam has been handed in. Press the Exit application button to exit the Digiexam client/app (figure 15).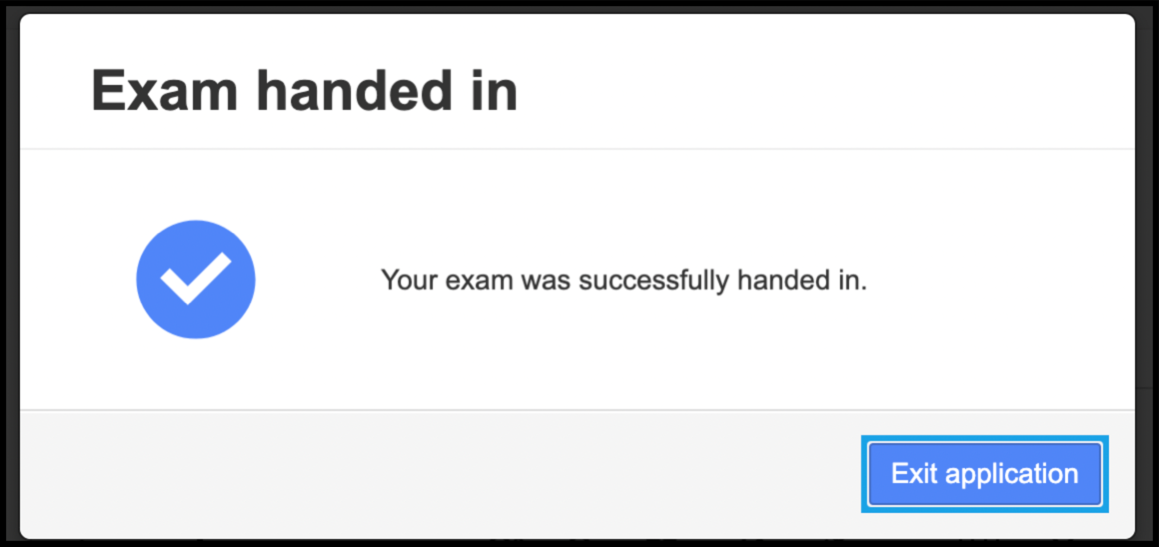 Figure 15
It is important that you also Exit application. This is due to that the application locks the other systems on your device and only when you choose Exit application, Digiexam will be closed and unlocks the other functions on your device.
---