What is DigiExam and how does it work with SAML?
DigiExam is a digital assessment platform that allows students to write exams in a locked down environment.
DigiExam acts as a SAML Service Provider (SP) and offers only the Single Sign-On (SSO) service derived from SAML2 int. It supports only unsolicited login attempts which means there is no Identity Provider (IDP) discovery.
You can find our SP metadata at https://app.digiexam.com/api/v1/saml/metadata.xml (please note that this is not our entity Id).
To perform a SAML setup you will need to have an "Account manager" role on the organizations DigiExam page, this can be given by an already existing account manager in your organization or by DigiExam support staff. 
The following chart is an example of a school district with two schools that have integrated their G-suite organization to DigiExam: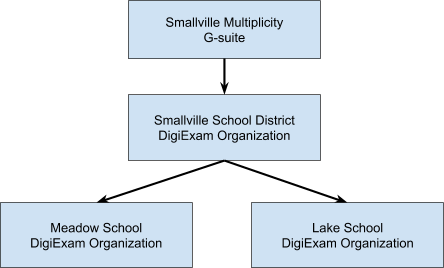 (Organization overview)
Any school or company that use DigiExam has its own organization. Organizations in DigiExam are used to connect the user to a school or company. You are never restricted to one organization, a university can have several organizations for different subjects. 
OrganizationRoles can be replaced with eduPersonScopedAffiliation.

In DigiExam, we define attributes by roles.
Student: Every user automatically gets this role. You don't have to specify anything to assign this role to the user. It is used to view grades online and to take exams.
Teacher: Can create, grade and start exams, they can also create classes and courses. They will only see their own exams or content that has been shared with them.
Admin: Have the same attributes as teachers but can see and handle all the exams in the organization, they can also remove anonymization.
Account Manager: Does NOT have access to classes or exams, they handle the roles in the organization and have access to the integration tab where you can handle LTI or SAML integrations.