External tool is a feature that makes it possible for students to use a variety of web applications and websites during an exam with the device in lockdown mode. For example, the feature supports websites or web applications that require the students to log in to access an account or domain.


---
Note! External tools can only be added by Account managers at the school. Once added, teachers can enable the tools to be used by students in an exam. It's crucial that an Account manager at the school verifies the external tool and ensures that it works in the school's IT environment.
---
---
Add an External tool




Performing these steps (figure 1):
Organization tab > External tools > + Create external tool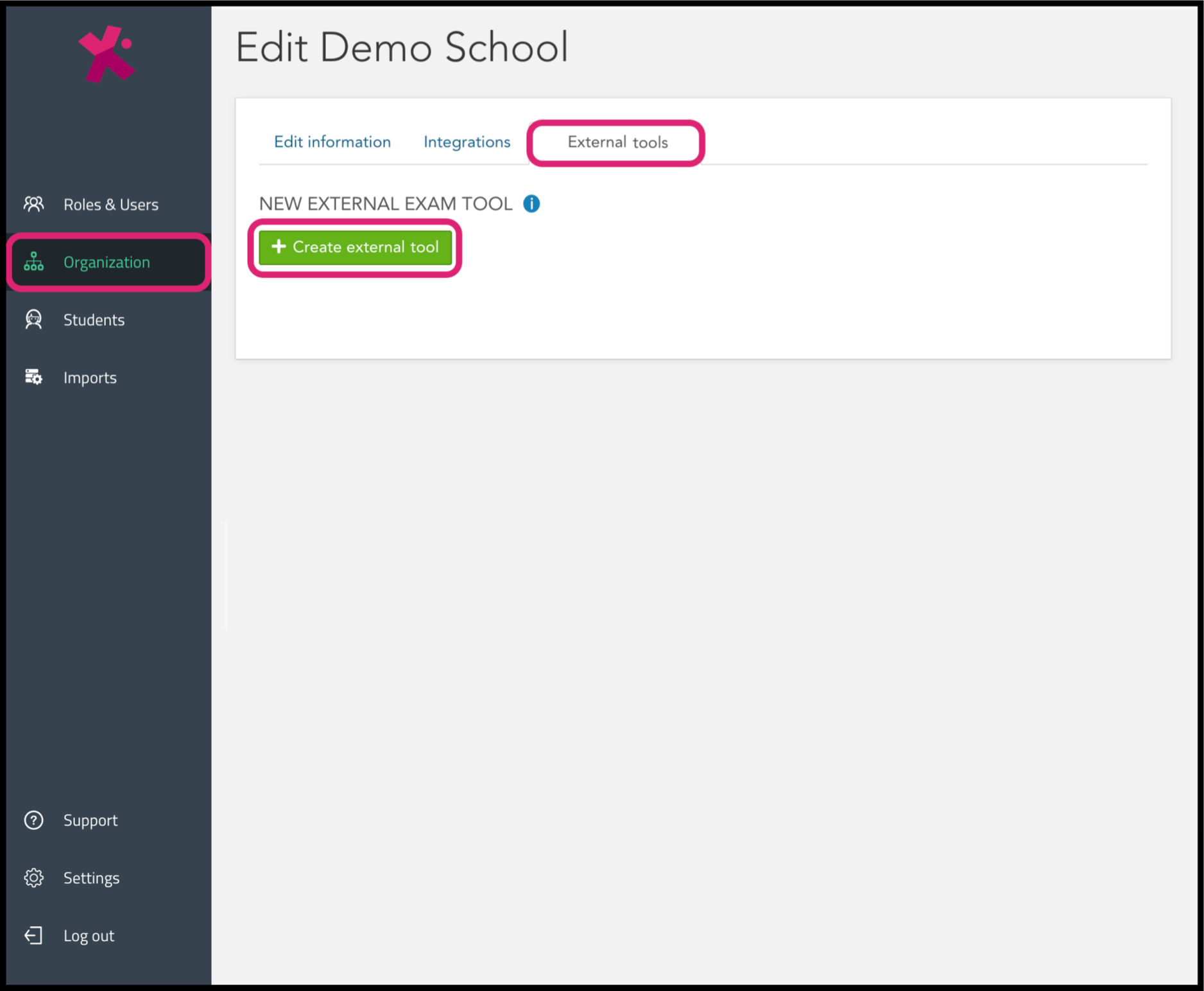 Figure 1
---
Name, icon and description
In the first part, the basics of the external tool can be set (figure 2).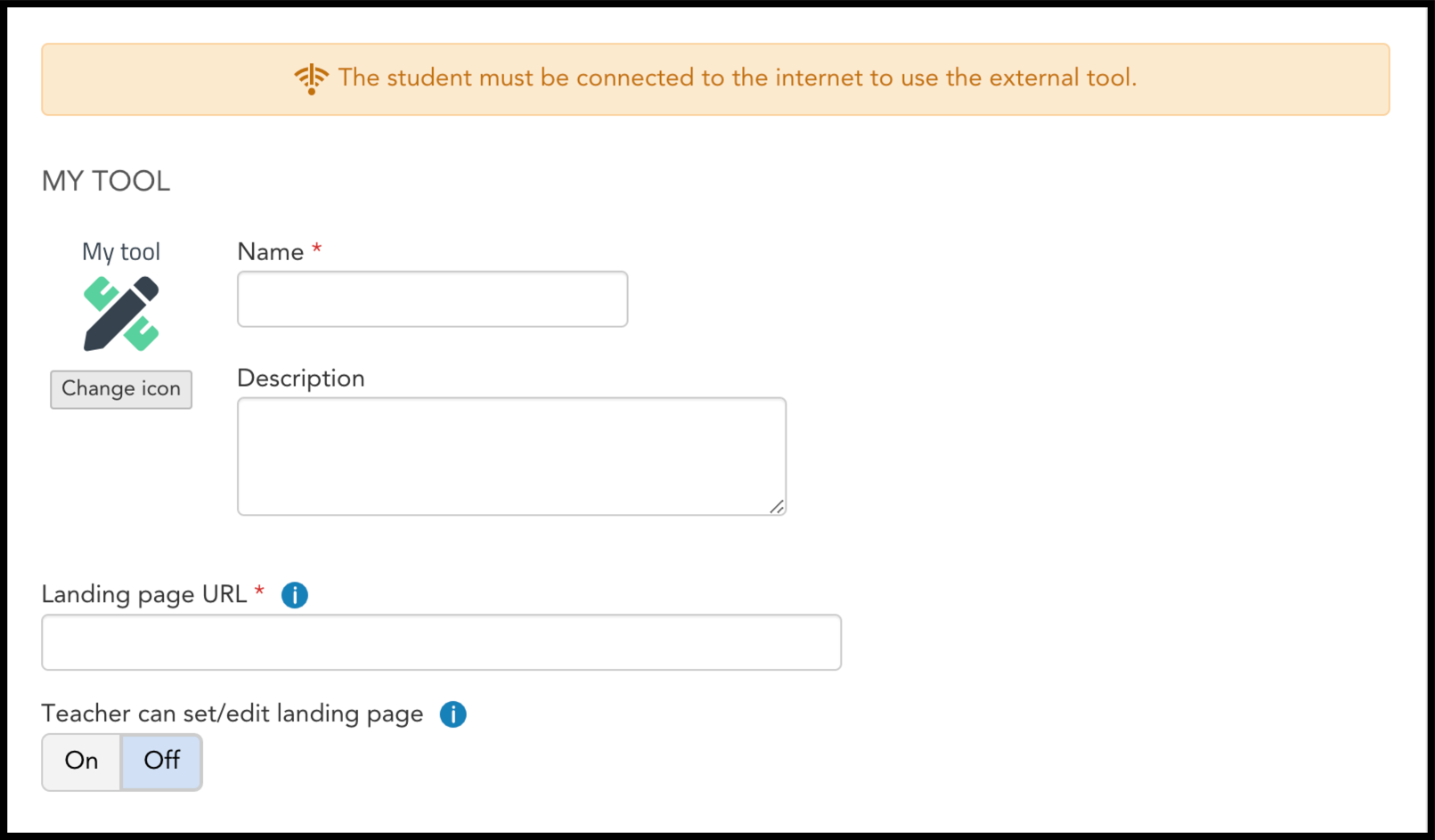 Figure 2
Description:
This text will be visible for teachers using the external tool.


Landing page URL:
Select your domain address for student login to the web application. When this external tool is used in an exam, this is the first page that the student will see.


Teachers can set/edit the landing page:

Activating this setting makes it possible for the teacher to edit the landing page that has been set by the account manager.
The account manager can also choose to leave the landing page blank when this setting is activated. However, if it is left blank, it will be mandatory for the teacher to add a landing page when the external tool is used in an exam.


---

Allowlists
Set the general URL for the external tool which will be used (figure 3).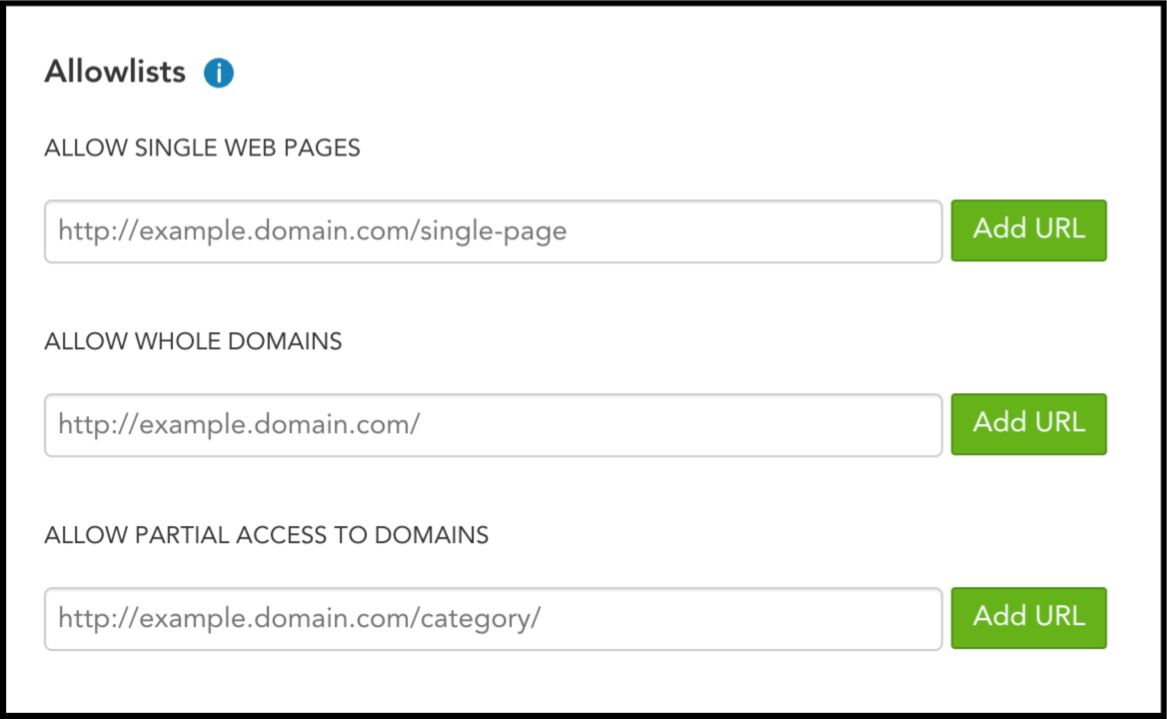 Figure 3
Allow single web pages:
Will allow a student to browse the contents of only the specific web URL(s) added (e.g. an article in Wikipedia)

Allow whole domains:
Will allow a student to browse and navigate freely under the specified domain(s) without any limits (e.g. all Wikipedia articles)


Allow partial access to domains:
Will allow a student to browse and navigate freely under the specified URL path added. It is possible to go deeper within the same URL path as long as it does not change, but it is not possible to up a level in the specific URL path specified here.


---

Student equipment checks (when using online meeting links)
Activate equipment checks when using external tools like video conferencing or online meeting links that require student equipment such as the camera and/or microphone (figure 4).
When using online meeting links (e.g. Teams, Zoom, Google Meet) as the external tool, students can be required to conduct an equipment check before starting the exam. This will prompt the operating system the student is using to give Digiexam permission to use the equipment that has been activated.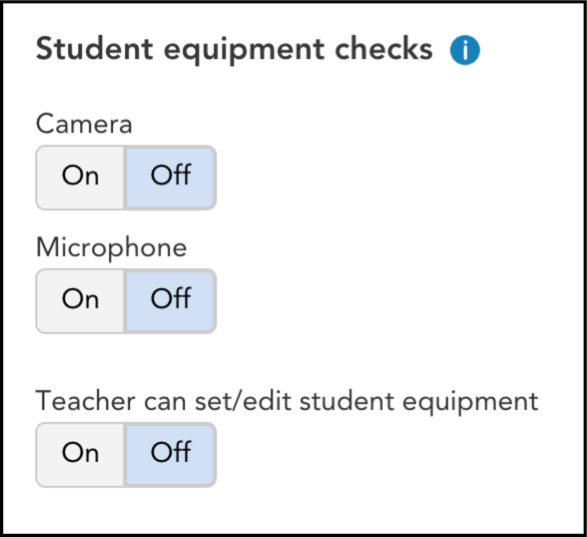 Figure 4


---

Supported platforms and features
| | | | | |
| --- | --- | --- | --- | --- |
| OS | Login | Webcam | Microphone | Screensharing |
| Win10/10S | Yes | Yes | Yes | No (Under development) |
| MacOS | Yes | Yes | Yes | No (Under development) |
| Chromebook | Yes | Yes | Yes | No (Under development) |
| iOS | Not supported | Not supported | Not supported | Not supported |
---