The administrator role in DigiExam is used primarily as a supporting role to the teachers at your school/organization.
The administrator has the same interface and features as a teacher but is given more extensive access.  Administrators are able to see all exams, rubrics, classes and courses that the teachers at their school/organization have created.  They can also start, stop, grade and publish exams for any teacher within their school/organization.  The administrator can see all of the exams, classes and courses that the students have taken or been enrolled in.  Lastly, the administrator has the ability to remove anonymization from exams, for more information about anonymization see below.
These features give the administrator the ability to help users from their own account without needing to be physically with the user.
Anonymization
An administrator can remove anonymization from exams and assessments for teachers.  This is done by searching for a teacher's anonymous samples. (see figure 1).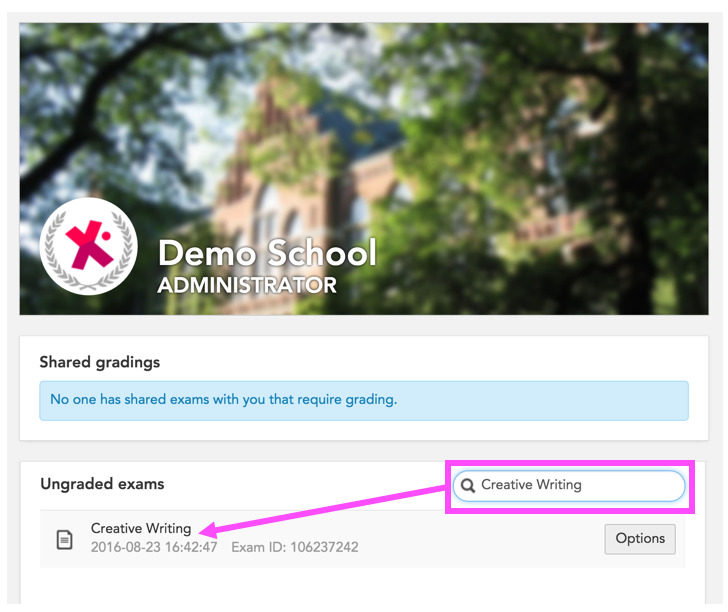 Figure 1
Once you have found the correct exam, click on it and you will be taken to the grading overview.  Click on the "remove anonymization..." button (see figure 2).  A dialogue box will appear explaining what will happen if you remove anonymization.  Click on the green "remove anonymization" button (see figure 3).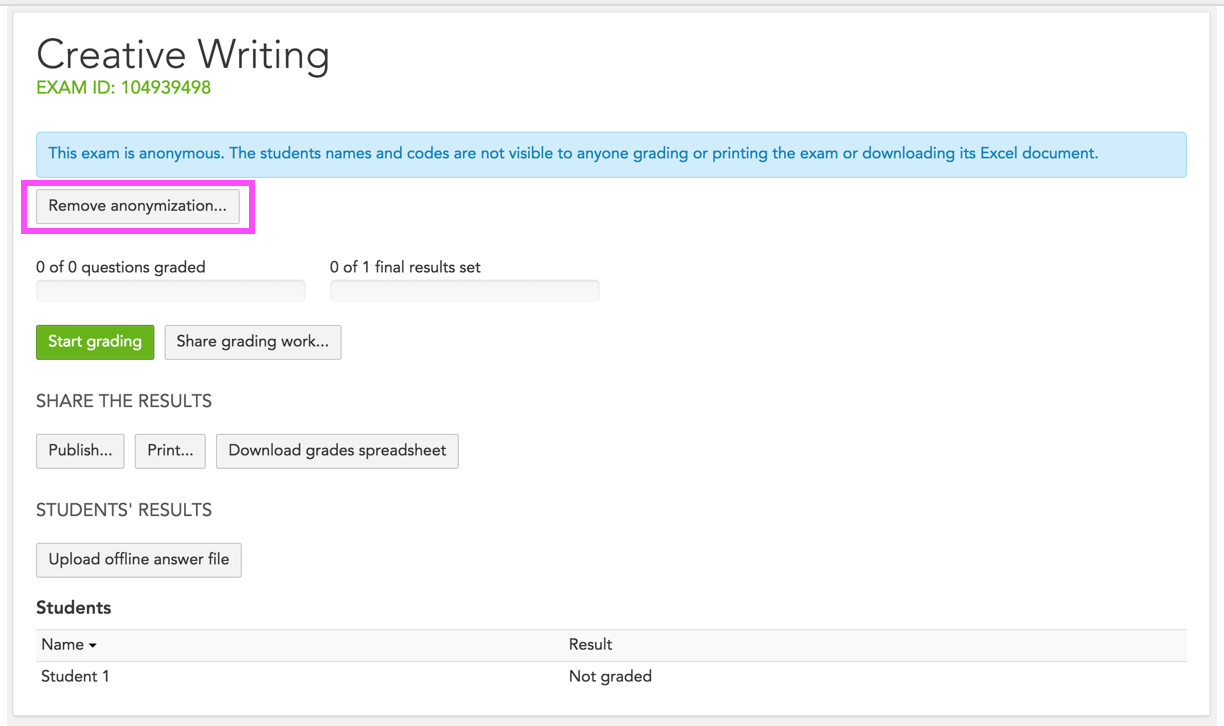 Figure 2


Figure 3
Once anonymization has been removed, the student's name and student code will appear rather than the masked data (Student 1, Student 2, etc.)  It is possible to anonymize the exam again by clicking on the "anonymize exam button" (see figure 4).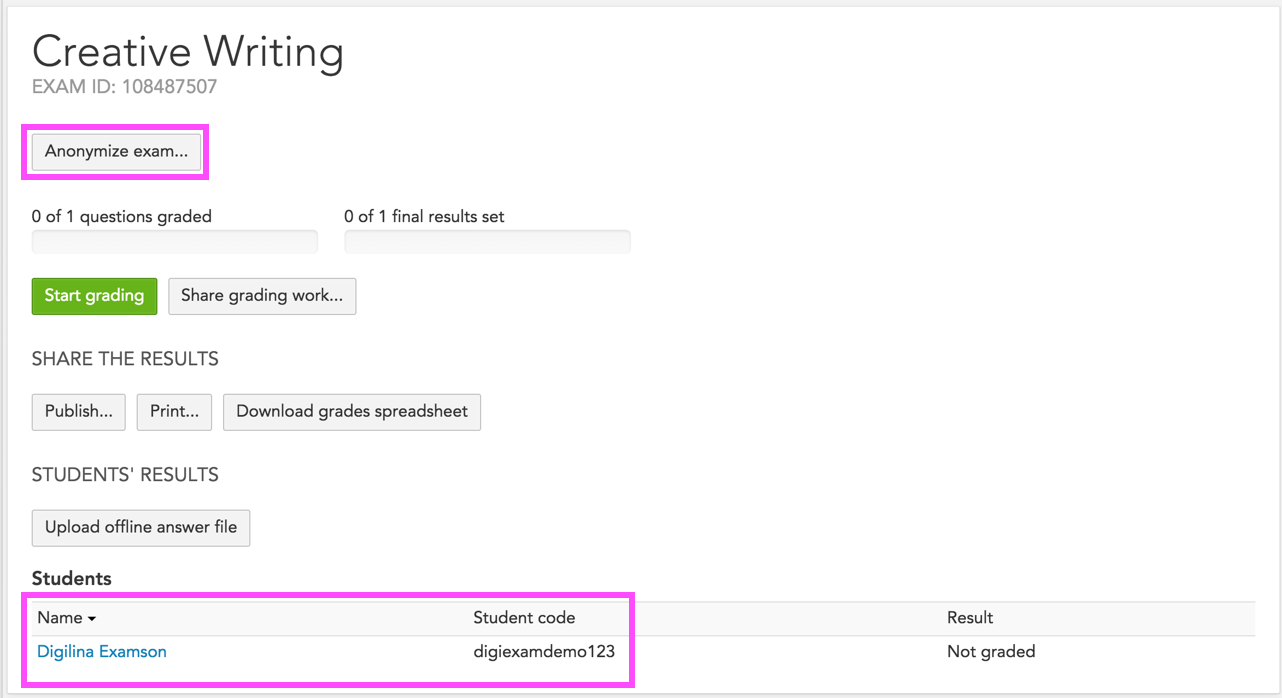 Figure 4
How to see both student name and anonymized id
When the anonymization has been removed, the students will be shown in name order instead of the anonymized order(Student 1, Student 2.. etc). As a DigiExam Administrator it's possible to download a list of the students anonymous id and the name connected to the id by downloading the grades spreadsheet while the exam is still anonymous. By downloading the spreadsheet, information regarding both the student name and the students anonymous id will be shown in the name column.
To download the grades spreadsheet, go to an exam that is either ungraded, graded or published. Seek for the anonymous exam by either name, exam ID or group. Click on the exam to get to the grading overview. Then click on the button "Download grades spreadsheet" to get the spreadsheet that shows both the anonymous id and the student name (see figure 5).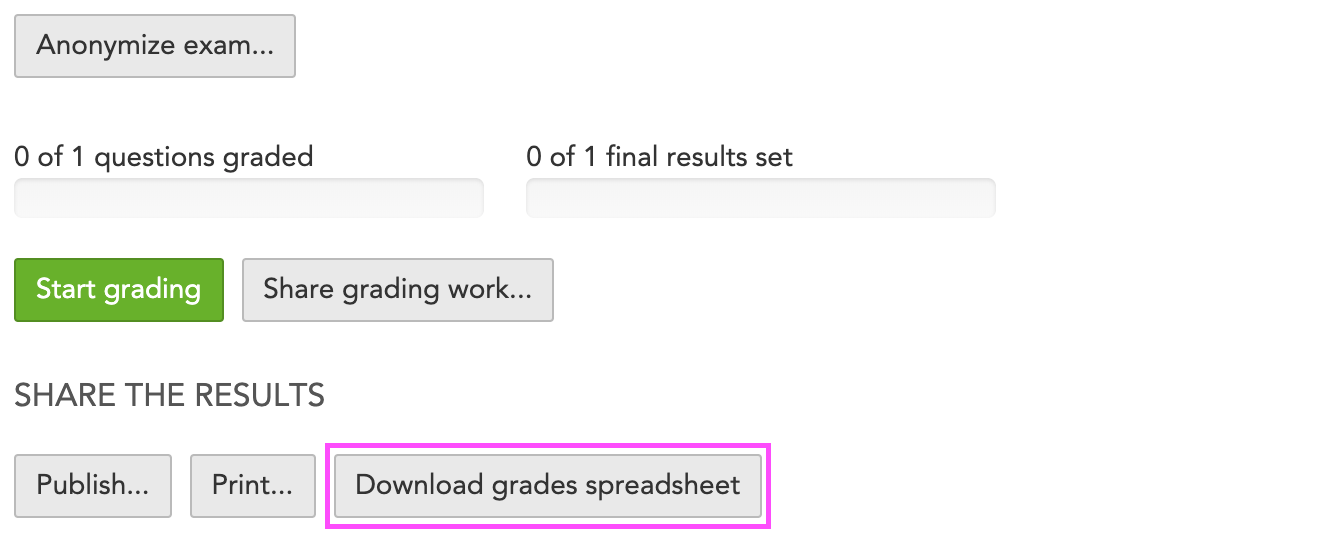 Figure 5