In this guide we go through the first steps to create an exam. Feel free to take a look at the YouTube clip below to get an overview of the process, then we invite you to go through the guide step by step, where we go through the exam settings and describe certain functions in more detail so that you can create your first exam.
---
Exam library
Exams are created in the exam library. To find the library, click on Exams in the menu on the left.
All exams, except archived ones, are stored in the library. From here, they can be shared with other teachers, previewed, edited or archived. It is also from the library that new exams are created.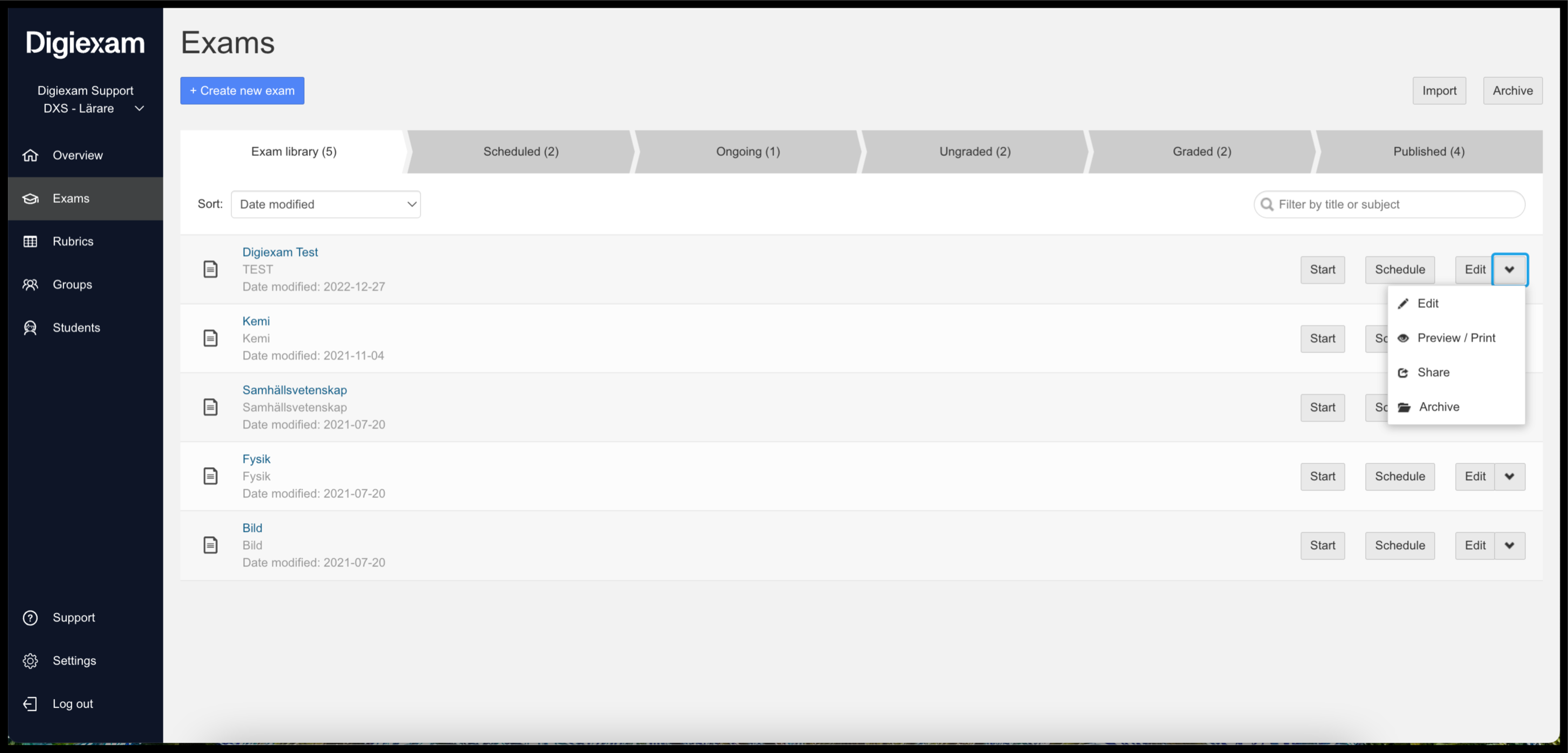 ---
Create a new exam
Start creating a new exam by clicking on + Create new exam.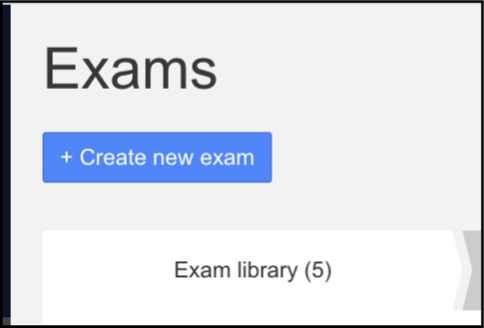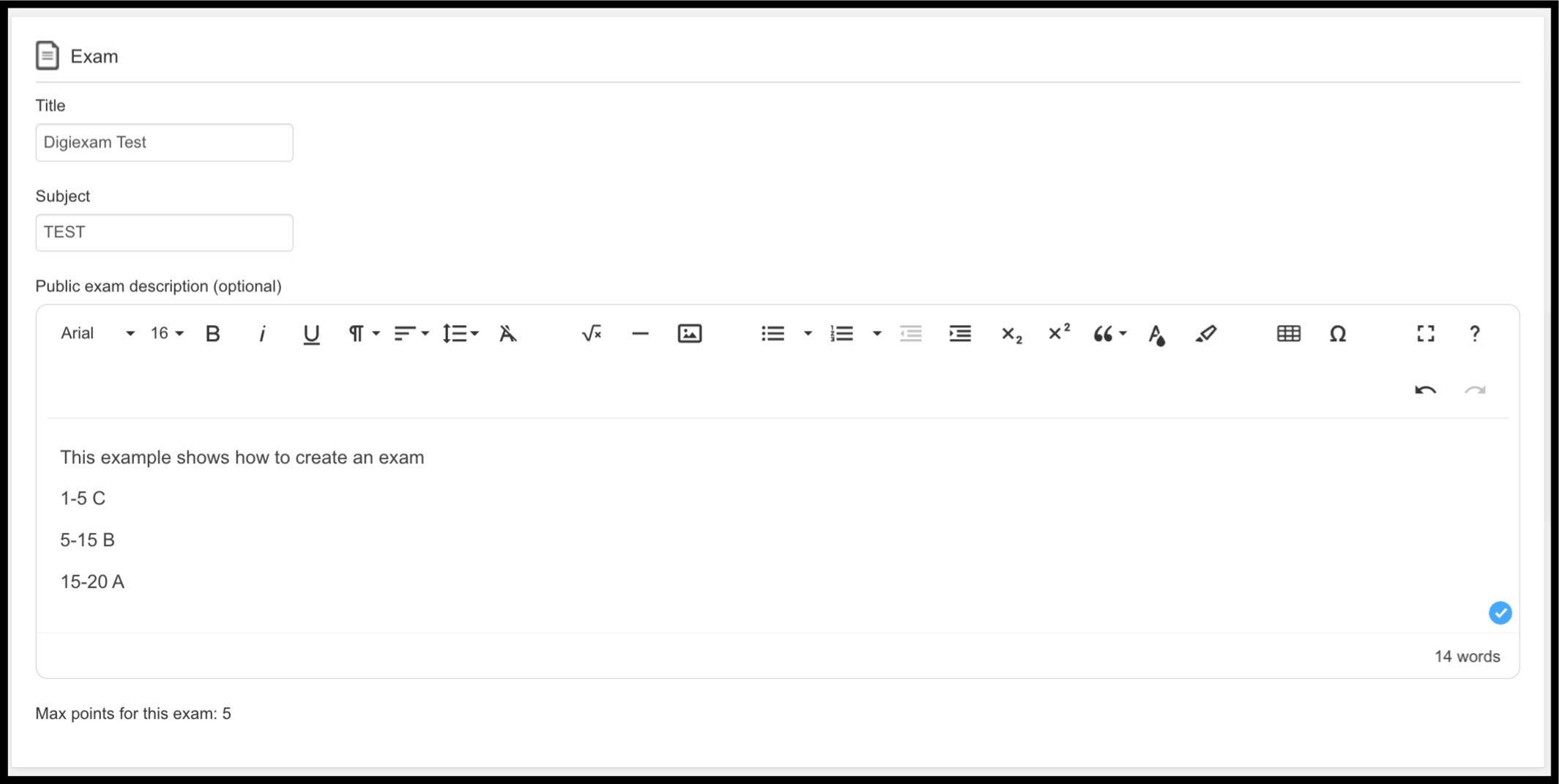 Note! Exam basic rule: A new exam require a title, subject and at least one complete question before it can be saved or started.
Exam settings
Under exam settings, there are 4 tabs as below.
Hold the mouse pointer over the

-symbol to see an explanation of the setting.
General


Assessment types
Score based grading
Set points for each question and set a final grade for their exam. Multiple choice and multiple response questions are automatically graded for you.
Rubric based assessment
Use a rubric for a more detailed way of evaluating how students perform within different skills or criteria.

The type of assessment your draft of the exam will have is a Score based grading. This guide goes through how to create an exam with a score based grading. To create an exam with Rubric based assessment (Formative Assessment), please check this guide.
Student computer lockdown
When student computer lockdown is turned on, students are prevented from surfing the web or accessing other applications during the exam.
This should always be turned on for formal exams.

Turn lockdown off if students are allowed to access other applications or web browsers while completing their exam (click here to read about how to set up open book exams)
Remote proctoring
The Remote Proctoring add-on is an integrated tool in the Digiexam client and allows an additional layer of reliability for remote exams. You can use an existing exam and add the Remote Proctoring with just one click in the exam settings.
Questions


Accessibility


External tools


Link to our guide Use Microsoft Teams in Digiexam.


---

Save
The basic rule for an exam to be able to be saved and used is that there is a title, subject and at least one complete question (figure 1). A question is considered complete when it has a question text, points, and if it is a multiple-choice question or a word gap question, the question must have at least one alternative or filled word gap.


Figur 1
When an exam cannot be saved, a red box with a white question mark appears next to the Save button. Press the question mark to see what needs to be completed in the test. by clicking on the text, you are transported to the place where the completion needs to be made. If you accidentally back out of the exam, you can always press the + Create New Exam button again, and the latest draft you created will be loaded.
---

Next article: Add questions to an exam


---